Gerald Wetherall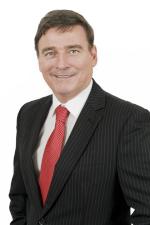 Director / Licensee
As the business owner, a licensed real estate agent and an auctioneer, Gerald is perfectly positioned to guide sellers through the sales process from listing to settlement.
Passionate about the company, Gerald says that he has "elders running through his veins".  After experiencing a successful career with Elders Limited for over 20 years as Regional Manager, Gerald and his wife purchased a Bayswater boutique real estate agency in 2007 and as a result of his long standing relationship with the company, franchised with Elders.
He places great value on the size and strength of the Elders network, which ensures both strong brand recognition and better results for clients.
"The strength of the Elders network is what sets it apart", Gerald says.  This combined with his personal approach, integrity and commitment to hard work, is the key to his success.
Outside of the office Gerald enjoys spending time with his wife, three children and four grandchildren and kayaking regularly along the Swan River.  
(08) 9371 1000
08 9371 2601
0409 689 625