Heidi McAtee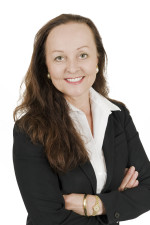 Sales Consultant
With extensive industry experience and a history in marketing, negotiating and selling, Heidi has developed a proven track record as one of the fastest growing and dynamic agents in the area, specialising in residential sales in Bassendean, Guildford, South Guildford and Woodbridge.
Heidi has a genuine passion for people and property.  She laughs and says, "I'm almost available 24/7 and I'm always on the phone.  I love real estate and I love people".
Heidi's knowledge, commitment and motivation are key factors that ensure her clients receive the best service and the utmost advantage when buying or selling a home.  "My mind is always tapping into new ideas", she says.  "I thoroughly enjoy the process of identifying unique qualities in each property and mapping out a marketing strategy to obtain the best coverage for my clients".
When asked what the key is to her success Heidi said, "Three things have been pivotal, being proactive, a sound knowledge of the area and establishing grounded and trusted relationships.  All of these things come naturally when you are doing something that you love".
Heidi and her family live in Guildford and are actively involved in the community, with her children attending the local preparatory and senior schools.  Heidi and her husband share a passion for period homes and are currently undertaking their third period renovation in the area.  
Heidi's love for real estate extends well beyond her career. 
Testimonials:
Guildford (Sellers) – February 2016

Thank you Heidi!  We initially approached Heidi when we were looking to sell our home in 2014.  After a change of mind on the sale at that time we knew when deciding to finally sell in 2015 that we would only use Heidi.  

Heidi was always so obliging, friendly and knowledgeable.  She treated us with respect and compassion, really understanding how stressful selling a home can be and what a big thing it is for most people.  We always felt that Heidi had OUR interest at heart, not simply the sale of our house.  

We have attended a lot of home opens in Guildford over the years both before and after moving to the area.  We knew that she was acting with integrity and professionalism throughout with us and equally our purchasers.  

At the end of the process we didn't see Heidi as our agent, but as our friend.  We would recommend her to anyone selling their home in and around the Guildford and Swan Valley area.


C & M Cloverdale , Guildford (Buyers) – February 2016

Meeting Heidi for the first time at our soon to be "dream property" was like meeting an old friend.

Heidi's genuine enthusiasm towards her work and friendly manner is infectious.  This lady is the whole package and more.

Heidi's professionalism, vast knowledge of the industry, creativity and attention to detail is impeccable.  She has made our whole experience of buying our first home together fondly memorable and stress free.

We are both thoroughly grateful and appreciative of the quality and professional service we received from Heidi.  We also gained a lovely friend. 

Many thanks Heidi and we highly recommend you for future clients knowing that they are in for a wonderful and professional experience buying or selling.


H Corrans & R Larty, Guildford (Sellers) – February 2016

Heidi recently sold our home in Guildford and we found her to be extremely honest, professional, knowledgeable and helpful at all times.

As first time sellers she guided us through the highs and lows of a difficult market.  Her experience and local knowledge proved invaluable, and we have no hesitation in recommending her to anyone.  Thank you Heidi!
08 9371 1000
08 9371 2601
0406 321 770