Jasvinder Malik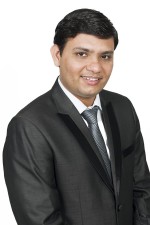 Sales Consultant
With an impressive list of qualifications that includes a Bachelor in Science (with Physics, Chemistry & Mathematics) and a pharmaceutical and marketing background, Jasvinder is well positioned to assist his clients in making the right property choice for both short and long term success.
Jasvinder has a great passion for education and acknowledges that one of the greatest tools that we can provide clients is knowledge.  "When I first meet with a buyer or seller, I ensure that I take the time to outline the sales process from beginning to end", he says.  "I find that by being upfront with my clients right from the beginning it not only establishes a great relationship but it provides them with a great understanding of their legal rights and responsibilities".
"I am a very logistical person", he says.  "I thrive on processes and procedures.  Real estate transactions are typically straight forward and uncomplicated, however occasionally issues can arise and I really enjoy navigating my clients through the process to settlement".
Originally from India, Jasvinder and his family moved to Australia in November 2008 and now live locally.
Jasvinder likes to spend his leisure time in yoga, meditation and of course watching the cricket.
08 9371 1000
08 9371 2601
0423 596 948